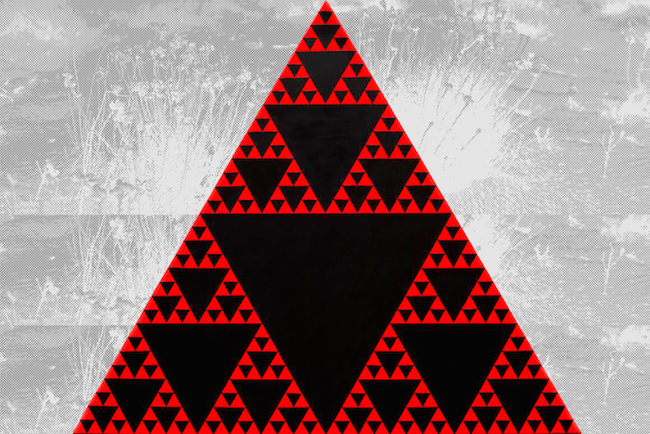 S Y N T H & M E M E en duo avec David Malek, 5UN7, Bordeaux.
Invitée à exposer avec l'artiste peintre américain David Malek, j'ai conçu des pièces sur le mode de l'intervention en travaillant en interaction ses grandes peintures géométriques réalisées à la peinture industrielle et la galerie comme environnement.
> Junkpage / "Mélancolie Synthétique" par Anne Clarck
"SYNTH&MEME est un rapprochement expérimental du travail d'Amandine Pierné résidente de La Réserve - Bienvenue et lauréate du prix Bernard Magrez et de celui du peintre New Yorkais David Malek qui réside depuis plus de 5 ans maintenant en France et qui est représenté entre autre par la galerie Triple V à Paris.
Passionnés tous deux de films et de nouvelles de Science-Fiction des années 70 à 90, les deux artistes piochent allègrement dans l'imagerie et la puissance narrative du genre. Ils compilent, répertorient, découpent, samplent et réinterprètent ce genre à part entière de la littérature et du cinéma en se l'appropriant et en le détournant à des fins artistiques post modernes.
La question de l'objet d'art comme fac-similé, objet de décor, "props" ou objet synthétique est clairement au centre de leurs problématiques plastiques respectives. Paradoxalement, tous deux produisent manuellement leurs oeuvres. Le geste est répétitif, les formes sont simples et géométriques, les couleurs sont celles du code industriel RAL chez David Malek, l'assemblage dépend de codes stricts et de matériaux industriels brut chez Amandine Pierné. Une fois de plus avec le travail de ces deux artistes le monde de l'art se préoccupe des questions de singularité, de cybernétique, de bio-synthèse ou de l'encodage numérique de la mémoire. Ces pratiques encore à l'ébauche dans le domaine scientifique se retrouvent fantasmées, cauchemardées ou plus simplement éprouvées dans leurs démarches respectives. Plus largement il sera question lors de cette nouvelle exposition au 5UN7 de "Rétro Futurism" et de l'influence de ce genre sur la production des artistes.
David par sa peinture géométrique efficiente et Amandine par ses successions de codes protocolaires, interrogent notre rapport au genre cinématographique SF en le traitant comme un souvenir. Un futur dont les codes appartiennent déjà au passé. Ce qu'Amandine et moi même avons choisi d'appeler la puissance Synthétique de la Mémoire ou SYNTH&MEME. Marc-Henri Garcia pour 5UN7. S Y N T H & M E M E duo-show with David Malek, 5UN7, Bordeaux. Invited to exhibit with the American painter David Malek, I designed pieces on the mode of intervention by interacting with his large geometric paintings made in industrial painting and the gallery as environment. "SYNTH & MEME is an experimental comparison of the work of Amandine Pierné resident of La Réserve - Bienvenue and laureate of the Bernard Magrez Prize and that of the New York painter David Malek who has been living for more than 5 years now in France and who is represented among others by the Triple V gallery in Paris. Both passionate about Science-Fiction movies and news from the '70s to' 90s, the two artists briskly draw on the genre's imagery and narrative power. They compile, list, cut out, sample and reinterpret this genre in its own right from literature and cinema by appropriating and diverting it for post-modern artistic purposes. The question of the art object as facsimile, decorative object, "props" or synthetic object is clearly at the center of their respective plastic problems. Paradoxically, both produce their works manually. The gesture is repetitive, the shapes are simple and geometric, the colors are those of the industrial RAL code by David Malek, the assembly depends on strict codes and raw industrial materials at Amandine Pierné. Once again with the work of these two artists the art world is concerned with the issues of singularity, cybernetics, bio-synthesis or the digital encoding of memory. These practices still in the draft in the scientific field are fantasized, nightmare or simply experienced in their respective approaches. More widely it will be question at this new exhibition at 5UN7 "Retro Futurism" and the influence of this genre on the production of artists. David's efficient geometric painting and Amandine's succession of protocol codes question our relationship to the film genre SF by treating it as a memory. A future whose codes already belong to the past. What Amandine and I have chosen to call the Synthetic power of Memory or SYNTH & SAME. Marc-Henri Garcia for 5UN7.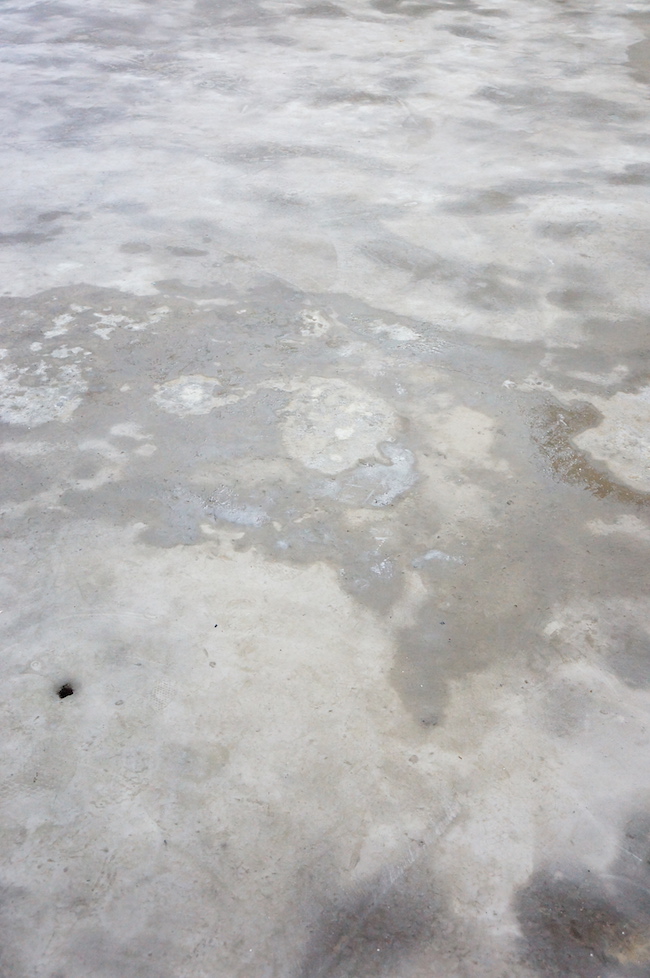 UNE PLAGE Chape de ciment au sable des Seychelles, 50m2 env. 2017 Modeste contribution à la disparition d'un territoire en forme de paysage délocalisé et fossilisé. Intervention in situ réalisée à l'occasion des travaux de réaménagement de la galerie. A BEACH Seychelles sand cement screed, 50m2 approx. 2017 Modest contribution to the disappearance of a territory in the form of delocalised and fossilized landscape. In situ intervention carried out during the redevelopment of the gallery.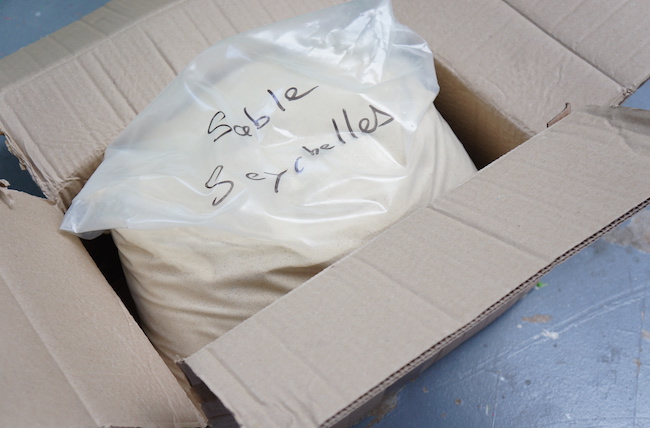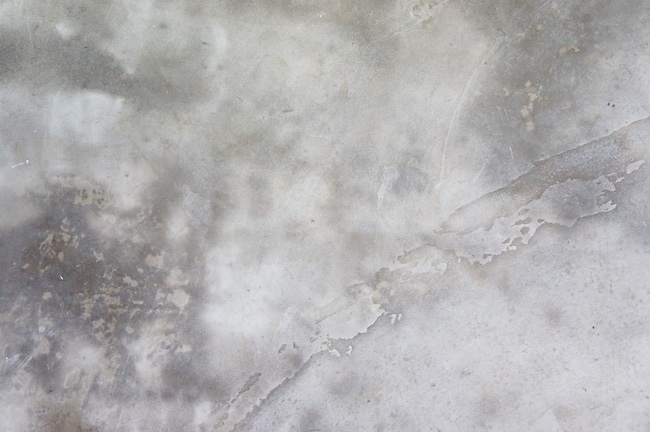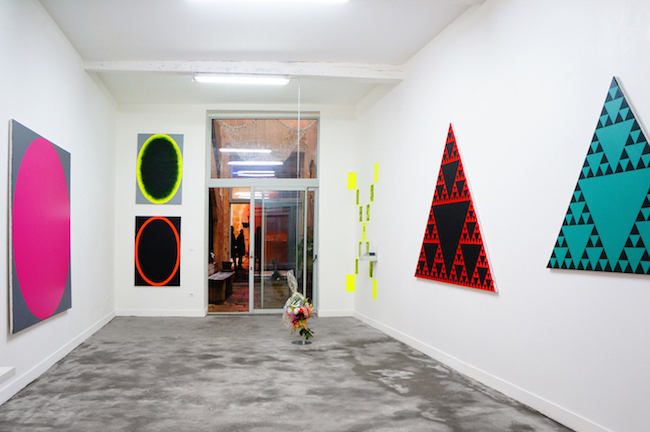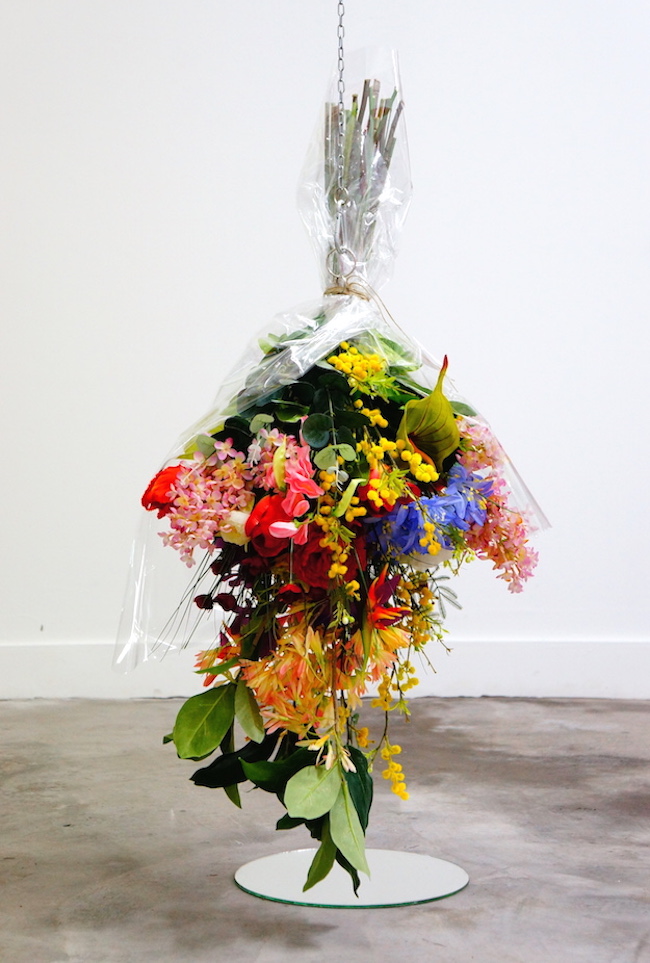 SOMEONE SPECIAL Bouquet de fleurs synthétiques, système de suspension. 2017 Accessoire de visite en forme de composition romantique. Bouquet of synthetic flowers, suspension system. 2017 Accessory visit shaped romantic composition.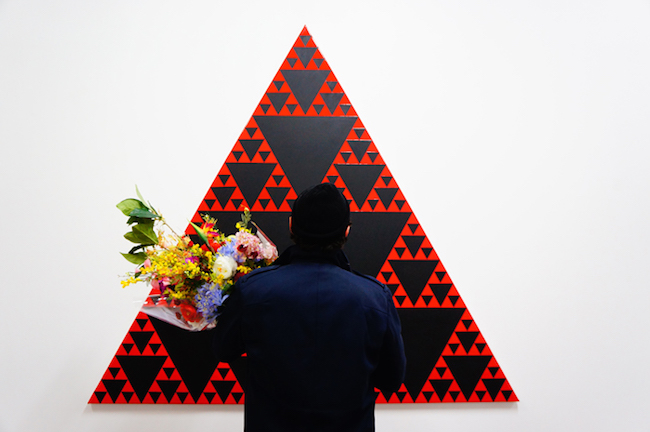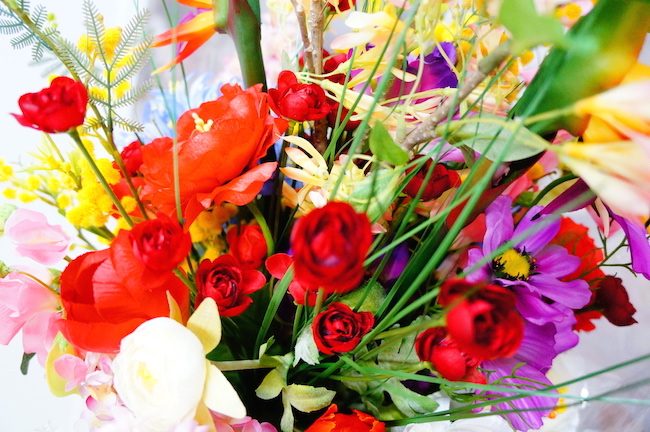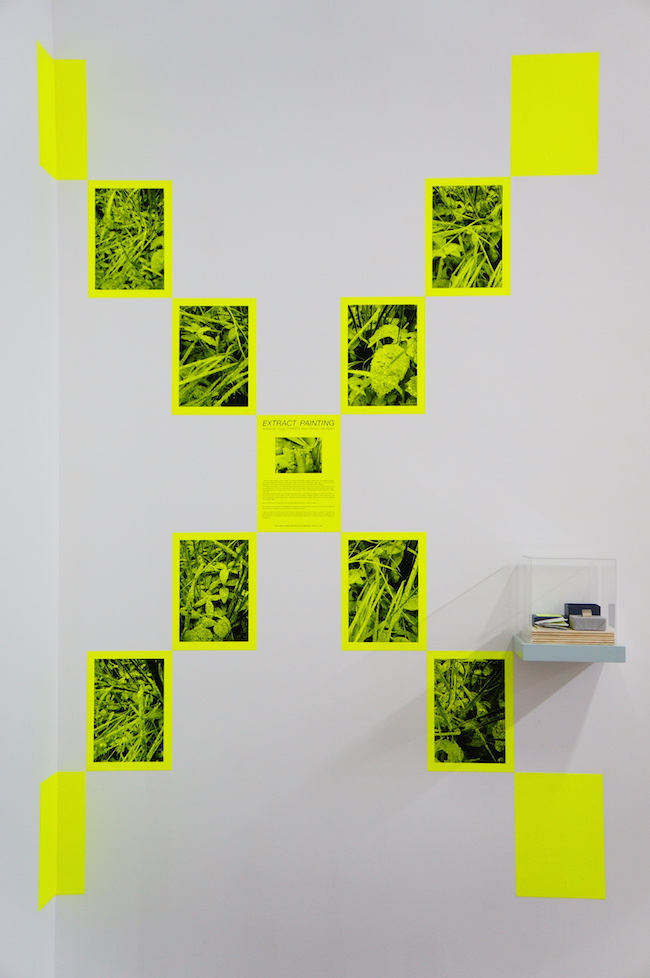 EXTRACT PAINTING 23 fragment de Fordite avec exemplaire d'exposition, display décoratif et informatif sur papier fluo. 2017 La Fordite est un minéral synthétique issu de l'industrie automobile américaine. Chaque couche de peinture correspond à une étape répétée de production en chaîne. Ces résidus en quantité limité d'un pan de l'histoire moderne font actuellement l'objet d'un "commerce du souvenir". 23 de ces "peintures extraites" sur toile en boîtes sont disponibles à la vente à l'arrière de la galerie. 23 fragment of Fordite with exhibition copy, decorative and informative display on fluorescent paper. 2017 Fordite is a synthetic mineral derived from the American automotive industry. Each layer of paint corresponds to a repeated stage of chain production. These residues in a limited amount of a part of modern history are currently the subject of a "souvenir trade". 23 of these "paintings extracted" on canvas in boxes are available for sale at the back of the gallery.